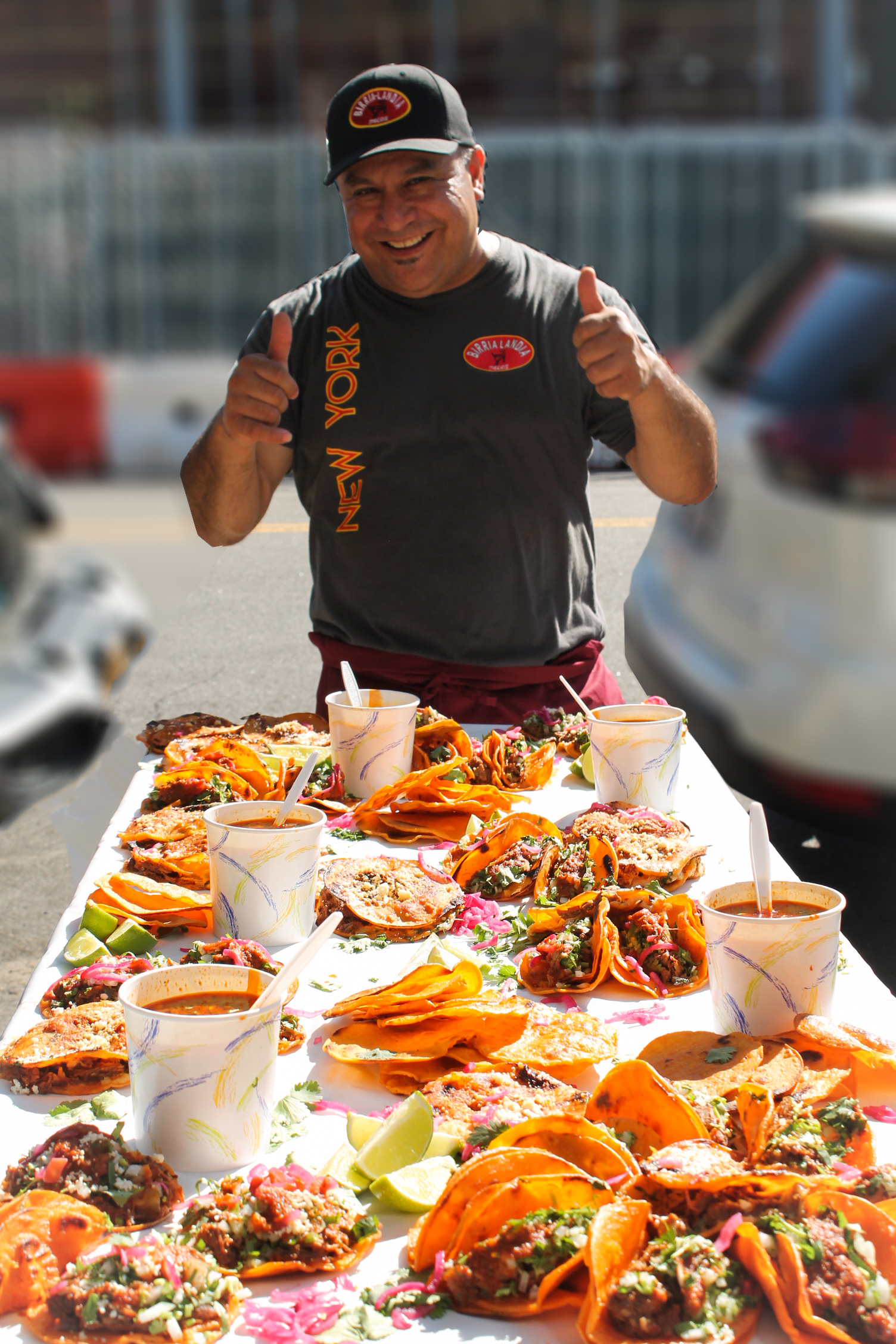 Welcome to Birria Landia
Birria-Landia Food Truck emerged in the autumn of 2019 in the vibrant community of Jackson Heights, located in the bustling metropolis of New York City. Conceived by the innovative duo, José and Jesús Moreno, two brothers hailing from the quaint town of Coatzingo in Puebla, Mexico, the food truck embodies their culinary expertise and passion. With a background in American and Italian cuisine, honed through years of experience at renowned eateries such as Lupa, Parm, and Del Posto, the Morenos bring a unique flavor to their dishes. In 2013, José was dispatched to Chicago to assist in the opening of Eataly, the celebrated Italian food market and restaurant, before being tasked with the establishment of its Los Angeles location. It was here that José discovered his love for Tijuana-style birria de res, a beef dish marinated in a complex adobo and slow-cooked for 5 hours each day. Made from a tantalizing combination of brisket, shank, and top round, the birria at Birria-Landia is succulent and flavorful, a true celebration of the authentic Tijuana tradition. To enhance the dining experience, the tacos are meant to be dipped in the birria broth, known as Consome, adding depth and richness to each bite.
Perfecto 👌
Olaf Finkbeiner
2023-04-17
Es ist ein Foodtruck auf einer sehr belebten Straße. Das Essen also die Birrias sind extrem lecker. Aber aus der Hand essen will gelenrt sein. Leider wenig Möglichkeiten sein Essen abzustellen. Wir hatten Glück und konnten es am Bus abstellen. Also takeaway und woanders essen ist eher zu empfehlen. Aber zurück zum essen: Birrias sind weiche Taccos die mit grob zerhacktem Rindfleisch und Corriander belegt sind. Dazu gab es eine kleine Portion eingelegte Zwiebeln und ein Döschen mit chili Sauce. Der Clou ist aber die Consome die man dazu bestellen sollte. Eine Rindfleischsuppe in die dann die Birrias getaucht werden. HAMMER!
Grazeradinfinitum
2023-04-16
Friendly service. I only had their taco and it was tasty, though on the small side. They also offer mulita, tostada and consommé. I'd come back and try those offerings. Refresca stand nearby and churros ladies around for dessert. If you want other offerings besides birria you'll need to go to the other stands.
I must say their Birria Tacos were good. For only $3.50 each. There was a line to wait but I can say it was worth it. Employees were nice, helpful and attentive. The soup was okay.
Lachlan Golding
2023-04-14
Had a brilliant experience! tacos were delicious.
Was expecting amazing food but was just good/ok. Got the mulita and small consome. Nothing special, didn't feel the rich deep flavor that I thought I was going to get. Overall, 7/10.